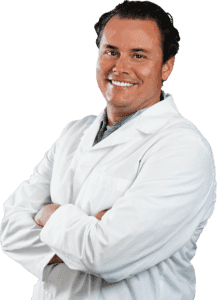 Last updated on September 21st, 2019 at 09:24 am
How did you start out?
I graduated in 2002 from University of the Pacific, Arthur A. Dugoni School of Dentistry. After school, I worked for my uncle in his Arizona practice. It was an excellent experience and provided an opportunity for me to grow as a professional under his mentorship. And after about a year and a half (in 2004), he sold me this very practice! From there, I was doing OK – or thought I was anyway. For a young doctor, I thought I was doing pretty good; patients seemed to like me, and I felt I was delivering good dentistry.
In 2008, I was invited to go to a free seminar at an orthodontist's office who happened to be an MGE client. Dr. Greg Winteregg was the speaker and offered to do a practice evaluation afterwards. So, I invited him over to my office to take a look. I showed him around my new 5-operatory facility, introduced him to the team and told him how much I was making. After looking at my office, he felt I could do better – essentially doubling my production. At the time, I couldn't wrap my head around that. I was so busy already – I couldn't imagine doubling my production.
My interest was piqued, though, because despite the fact that I was doing pretty well –  I had a nice home, a new truck and new facility – I'd noticed that my office had stopped growing, which concerned me a bit. And deep down I knew that I could be doing better. Speaking with Dr. Winteregg confirmed my suspicion!
Dr. Winteregg suggested I sign up for the MGE Communication & Sales Seminars. After talking with him for a while, I thought, "If I can learn how to inspire my patients to do comprehensive dental treatment the way Dr. Winteregg is inspiring me to do MGE's seminars, I really could become more productive!" I wanted to learn how to do what he did! So, I went ahead and signed up.
What benefits did you see from the MGE Communications & Sales Seminars?
These seminars changed my practice and my life. Honestly. I finally came across some technology I was able to use to make a difference.
I think what made the biggest difference is I started staying in the room and placing a greater importance on case acceptance in my office. Instead of me going in and saying, "this is what you need," and then hoping my staff properly educated them, "closed" the deal and collected payment, I now had actual tools to use to make sure the case acceptance, scheduling and financial process was executed perfectly. Statistically, I saw an immediate boost to the practice.
And in the end, it's all about patients getting the treatment they need to restore health, function and aesthetic. MGE taught us how to communicate more effectively and help patients to see the value of the treatment they need. We also learned how to seamlessly handle the financial discussion in a way that was comfortable for both us and them! That's really what this was about – more patients accepting comprehensive needed treatment. There's no "over-diagnosing" or pushy sales tactics.
The practice becoming more productive was really a side benefit. Instead, it was a "win-win": my patients won with more of them completing full treatment (instead of just opting to do bits and pieces according to their insurance coverage), and I got to help more of my patients. My staff loved it because it made their jobs easier and more rewarding.
At that point, I knew I wanted to learn everything MGE could teach me about organization and practice management, so I signed up for the MGE Power Program.
(Editor's Note: The MGE Power Program is a comprehensive series of courses, seminars and implementation steps designed to give a doctor control over all of the business aspects of their practice. The subjects covered range from marketing, case acceptance, organization, management, hiring, financial planning, leadership, and more. Learn more at
www.mgeonline.com/services)
How did the MGE Power Program impact your practice?
By 2009, I was done with the MGE Power Program and my practice was still growing! With the training my staff and I received, the office was far more organized and efficient, customer (patient) service was excellent and the communication level and camaraderie in my practice was at an all-time high. And by growing efficiently, I wasn't overworked like I'd worried I would be.
Needless to say I was happy with the results! But then in 2010 we had a little curveball. I made the decision with my family to pick up and move from Arizona to Asheville, North Carolina! And this is where my MGE training really came in handy. Without it, this transition would have been extremely difficult.
So, I sold my Arizona practice (which of course was now worth far more than it would have been without my MGE training) and purchased a practice in Asheville.
Early on in this new practice, I focused on the very same systems I'd learned on the MGE Power Program and training my staff. It paid off! Collections nearly doubled right away.
I was, again, not stressed, and the office ran efficiently, which put me in a position to take advantage of new opportunities in the area. I found a local practice that had gone out of business and had essentially been abandoned. I purchased the building it was located in, but it was essentially like starting a practice from scratch. I hired an associate doctor to run the practice and began implementing what I'd learned at MGE. The results were incredible.
The associate doctor I hired for this new practice came down to MGE for seminars and courses, as well, and loved it. The practice continued to grow under his watch, and I knew he wanted to go out on his own, so I sold him the practice after a year. Since then, he's graduated the MGE Power Program himself and has been very successful, adding multiple locations himself and I couldn't be happier for him!
From there, I decided to add a "new" second location and it too has grown quickly!
How are your offices doing now?
Currently we have two locations and are starting to build a third. Between the two current offices we have a total of three associate doctors and five full-time hygienists.
We see about 130 new patients per month, and most are fee-for-service. The only discount plan we accept is Delta. MGE helped us get a good referral plan in place, and we've never needed to spend much on marketing since we've implemented it.
Again, you might think with all this growth I would be overworked and stressed all the time, but I'm not; in fact, I work an average of three days a week now. With good management systems in place, I've been able to delegate and let my staff take care of a number of tasks I used to do myself. I focus primarily on patient care, training my team and implementing the MGE systems.  I have a wonderful team that are not only highly competent, but also work well together. Since we've continued to grow, there's always room for them to move up within the business, which gives them long-term career prospects and the potential for higher compensation.
With my practices under control, I've had the time to take a leadership position in my church, and the management skills I gained from MGE helped me be successful in this role as well. It was important to me that the things I learned at MGE didn't conflict with any of my core beliefs, and that the systems we implemented were fair and ethical. MGE was a great fit. They taught me how to flourish by communicating better and truly caring for my staff and my patients. The focus is always on helping people and practicing ethically, and that's where the growth comes from.
What are your plans for the future?
My goal is to have several offices. I'd like to split my time between being chairside, overseeing my practices, training my team and opening new locations. I could reduce my time chairside even more now, but I don't want to! I feel it's important for me and I love doing it.  
What advice would you give another dentist looking to grow their practice?
I would say don't be afraid of taking the time to come to MGE to do the training. The cost is insignificant compared to return-on-investment in growth potential and profit that can be realized by knowing how to do things the right way. And even more important, you can't put a monetary value on the personal satisfaction due to less stress and a comfortable work-life balance. Essentially, don't be afraid of the initial cost because eventually it will be insignificant. I highly recommend coming to MGE for the Communication & Sales Seminars or if you want to get started right away, sign up for DDS Success.