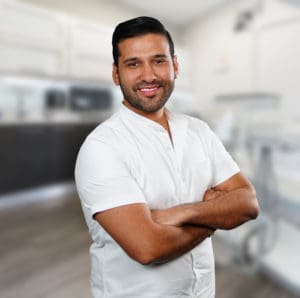 Last updated on September 21st, 2019 at 09:31 am
Where did you go to dental school and when did you graduate?
I went to the Marquette University School of Dentistry and graduated in 2014. From there, I went straight into associating and worked in a few different offices. I had a vision of what I wanted for my own office, which beyond being successful included community service and outreach, which I couldn't find in a lot of other offices.In 2015, I was working for a practice that ran seamlessly. It was great. I asked the owner how he learned how to manage the office and he told me: MGE. He knew I was looking to go out on my own and said I should check MGE out and see if I liked it. So, I went to MGE and attended the MGE Communication & Sales Seminar (my first MGE course). After the first seminar I knew I was ready. I signed up for more MGE courses to learn how to manage the business and my new practice in South Miami, Florida opened in September of 2016.
What can you tell us about the first year in your office?
I started out with 1,500 square feet and two chairs. Prior to MGE, my thought was it would take about two years until I would need that third chair. As it turned out, we had to add the third chair within six months! Two months after we opened, our collections increased by 150%. By August of 2017, less than a year from opening, we had a 850% increase from the first month we opened. We started with four staff members for the first four months — my office manager Daniel, two assistants and me. Since then we've added a few more. My office manager, Daniel, was incredible throughout this process, and I never could have done it without him. He did the MGE training with me and we both worked to implement the systems in our office. Having an office manager who can be a real executive for your business is essential.
What marketing actions are you doing to attract new patients now?
I did the MGE New Patient Workshop a few months before I opened my office. We learned a lot and it definitely works. Overall, we're at about 90 new patients per month. We do a lot of the old school stuff, like flyers and so on, along with a ton of social media (Instagram and Facebook, etc.), using before-and-afters. We've also been running programs in the office to get more referrals and online reviews. The staff and I make it a point to ask patients to leave reviews and we've made it a big deal in the office. For that matter many of our patients that come in mention that they were attracted by our online reviews and rating, which is great.
What benefits have you seen from the MGE Program?
Daniel and I did the MGE Communication and Sales Seminars right before the office opened. I can't express the difference it made! MGE taught me how to really get through to my patients when presenting comprehensive treatment – so that they truly understand why they need it. I don't feel like I'm limited by insurance coverage and I'm comfortable helping patients overcome the barriers they encounter to doing the treatment that they need. Truthfully when a patient understands what they need and why they need it, they WANT it and it's just a matter of working out how to proceed. This helped us grow quickly, so it wasn't long before I was on the MGE Power Program.
(Editor's Note: The MGE Power Program is a comprehensive series of courses, seminars and implementation steps designed to give a doctor control over all of the business aspects of their practice. The subjects covered range from marketing, case acceptance, organization, management, hiring, financial planning, leadership, and more.)
With the MGE Power Program, expansion continued, and we've seen a ton of benefits with staffing and organization. I feel comfortable as an executive running my business and confident in leadership ability when it comes to directing my team. My office manager found it to be the same for him; we were both able to come together and build something really great. We've also been able to build a great team and there's mutual respect between all of us. The training has also helped me stay relatively stress-free when dealing with difficult situations in the office. I'm confident in my ability to fix whatever comes up. Before, I might have just "held on" to some of these and not dealt with it right away. Now, I handle it right then and there and it makes it so much easier in the office.
What advice would you give another dentist?
The MGE Program is the most amazing program you'll ever find, not only for business but for life; I recommend it all the time. Whoever I talk to, I tell them about MGE and how proud I am to be doing the MGE Program. I tell them that we wouldn't be where we are without the program; I'm very clear that it's because we've been a part of this that we are where we are and while we are also hard workers, it's because we've been shown the tools to grow.