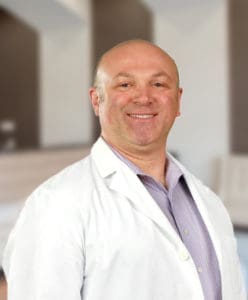 Last updated on September 21st, 2019 at 09:25 am
How did you start out? 
I went to Tufts Dental School in Boston, graduating in 2004 with clinical honors. From there, I spent the first 6 years of my career associating in both the private and public sector. For example, I worked for the Rhode Island Prison system for 2 and half years, while at the same time I was associating part-time in a fee-for-service office. In 2010 I decided to start my own office with my brother Ben as the manager. Not long after that, we opened a second location. To get busy, we signed up with every insurance plan we could—HMOs, Medicaid, PPOs, etc.—and we ended up with two practices that were 90% reduced fee or managed care. As you can imagine, we were quickly introduced to the stress that comes with running a dental office, or in our case two offices! I still kept a part time associate job, which was fee-for service.
I noticed quickly that I was getting paid far less for doing the same procedures in my office than I did as an associate! It seemed that I was doing everything for half price based on all the plans I was in. In the other practices I'd worked in, someone else would present the cases and collect the money. Now it was all up to me and my brother. It was stressful. We had problems with patients, problems with staff… we were just generally disorganized. As a result, production was erratic. A good month would be followed by a bad month, and we'd have to borrow money then catch up next month… then the following month would be a disaster. It's funny looking back at this time now. It's like a previous life. Things are so different.
When did things start to turn around? 
I met Dr. Winteregg at a free seminar MGE did called the Real Solution to Cancellations & No-Shows Seminar in late 2011. It changed my life. I realized that there were specific management systems and communication skills we were lacking. We applied what we learned at this free seminar and immediately got great results – with less cancellations and a more evenly booked schedule. Over the next couple years, we attended more MGE courses and seminars, and it seemed like every time we did, things would improve at our office. So in 2014, we signed up for MGE's most comprehensive training program—the MGE Power Program. Fast forward to today and we are collecting over double of what we were originally collecting per month between three offices and having a lot more FUN doing it. One of the main "numbers" we track is the number of people we get healthy. Everything we do relates directly back to how many people we're helping and how many teeth we're saving. It's a lot easier to do so now, because we are seeing a lot more fee-for-service patients. We can also afford to give bonuses to our staff, and they are happy and productive.
Can you share some specifics of how you achieved this? 
The first thing we did was learn how to market our practice better. Before coming to MGE we would see 100 new patients per month, but again, most all were from various PPOs, HMOs and reduced fee plans. We did the MGE New Patient Workshop and became proactive about new patients. Since then we've cut down our managed care from 90% of the practice to about 20%, and we're up to 185 new patients per month! Then we did the MGE Communication & Sales Seminars (Seminars A, B & C). It was an absolute wealth of material. We applied what we learned and it worked! Case acceptance improved and my confidence soared! Because I'm able to better communicate with my patients, more of them fully understand and accept treatment. My drive and purpose increased. I'm fully focused on improving somebody's health; I'm giving them more years, giving their teeth more years. And as a result, patients are referring to me with confidence – not because I participate in some insurance, but because they have confidence that I am THE doctor that they want to see and want their friends to see. As we progressed through the MGE Power Program, we learned how to get organized. Before the Power Program our numbers would be up-and-down. On the program we learned not just how to hit big numbers, but maintain them. We've grown so much that we added several associates and specialists to our practice. Things are smooth and predictable now because we have actual formulas to apply. I do my job, Ben does his, and the staff do theirs. We all know what our jobs are and have checklists of exactly what we are supposed to do. We manage by statistics, so we don't need to get into guesswork, opinions or just hoping that everything goes well and we have a "good month."
What was the Biggest factor in your success?
We made a point of getting through our MGE training quickly. It wasn't always easy carving time out of the schedule every month, but we made it happen—and still do! I attend every MGE seminar and course that I can, even if I've already done it before. I've been to all of the MGE Communication and Sales Seminars (ABC Seminars) five times already! We see the results every time we come back to our office from an MGE course or seminar. And conversely, the longer we waited before moving on to the next step on the program, we would feel that, too – things would start to "go back to normal" and we'd stop growing as quickly. We send our staff for training regularly, as well. Our goal is to bring every staff member at least through the ABC Seminars. Everybody got on board when we started educating all the staff here, not just showing them notes in office. It's definitely helped. Because I worked so hard to get through the MGE Power Program and implement everything quickly, I have practices that run efficiently and productively on their own with associates, so it's actually very easy for me to take time off whenever I want.
What advice would you give another dentist?
Dental school can teach you perfect dentistry but does not guarantee that you come out a good businessperson. I've encouraged at least ten of my friends and colleagues to come to MGE. Some have done the ABC Seminars and some the Power Program and beyond, and it's helped them tremendously. I recommend that every dentist does it. I don't worry about the competition. I would be happy if all dentists could think the way we think. We'd help so many more patients and people would have more options of great dental practices to go to. And that's what it's all about in the end: helping more people get healthy.