Last updated on September 29th, 2020 at 01:08 pm
This week's blog post comes from MGE clients, Jigar Gandhi, DDS and Karol Molina, Office Manager. Enjoy!
How to handle online reviews was among the many things we learned at MGE's Internet Marketing Seminar.  And while our focus was always on our overall rating on sites like Google, Yelp, Facebook, etc., we realized that the total number of reviews that we had was just as important.  We needed to get more. Lots more.
So, over the last few months, we developed a system to this end that's been working well in our office. Since implementation, we've been getting at least five new online reviews a week.
This, along with the other things we learned at the seminar (Guidelines for an effective website, search engine optimization, effective social media strategies and video marketing) has taken us from the third or fourth page of Google to page one! We got an additional 20 new patients this month, saying things like "We saw you on Google" or "Yelp" or "Facebook," and even better – ALL OF THIS COST LESS THAN $600! 
When MGE asked if we would share how we're getting more reviews, we were more than happy to do so.  And with that said, here's how we're doing it:
1. We purchased a service that automatically sends text messages or emails to patients with a link they can click that sends them right to Google, Yelp or Facebook (whichever sites you want more reviews on) to leave a review.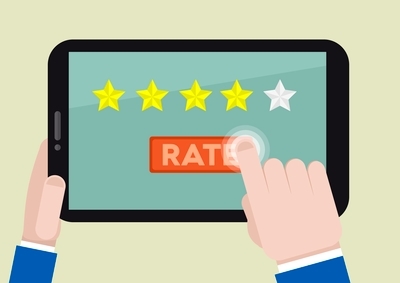 We found this is especially helpful for patients who are older or aren't "tech savvy." All they need to do is click it and immediately start typing their review. They don't have to go looking online and try to figure out how to do it. There are several companies that offer this service, like My Social Practice, Podium, etc.
As a note: patients must "opt-in" and give their permission to receive these texts/emails before we enter their number into the system and send them. Sending unsolicited messages is a no-no.
2. We try to make things fun to encourage our entire staff to participate. If a staff member (or the entire team) reaches a certain goal, they get a prize. This creates a fun, upbeat environment in the office, and as a result production goes up and patients often comment "Your staff are so friendly and happy. We love it here!"
With online reviews, we took the same approach and made a game out of it. The game is simple: if we get five reviews in a week, the entire staff gets whatever coffee they want from Starbucks. This may not seem like a major prize, but our staff love it and often the free latte or frappuccino makes their week. The staff get excited about it and then in turn, the patients feel that and get excited too. Every single week since we've gotten more than five new reviews.
(Related: Marketing Your Dental Practice Online – Where to Start?)
3. To ensure we don't have the entire staff asking the same patient for a review over and over again, we include a little line on the patients routing slip (which we print off from Dentrix) that says "Wants to receive texts…YES __ NO __" and "Wants to receive emails… YES __ NO __"
The first staff member to ask them simply checks the appropriate box (yes or no) according to their answer. Any other staff who see that patient simply look at the slip and if it's already checked, they don't ask the patient.
4. It's very easy to broach this subject with patients. Since our online presence is so great now, oftentimes patients will mention "Oh yeah! I saw your video on Facebook" or some other place and we'll say "That right! We're really trying to build up our presence online now. Can you help up out with that?" And then when patients see how much it helps us they get really committed to following through and posting their review.
We usually send the text message right away and they go ahead and post the review on their phone.
That's what we do! I hope if helps you in your office.
There's a lot more to learn about managing reviews (what to do about negative reviews, etc.) and the whole world of internet marketing and your online presence. So, I highly suggest attending the MGE New Patient Workshop. In my opinion, it's the best place in the industry to learn about new patient marketing and get real tools you can use immediately to start getting more new patients.