Last updated on December 14th, 2022 at 02:28 pm
One of the biggest issues I see the front desk staff in a dental practice struggle with is patient outreach. Either they're not doing enough of it or they have a hard time getting patients on the phone or to respond to their messages.
And this could be said about all forms of outreach: overdue patients, inactive patients, patients with incomplete treatment, patients that missed or canceled their appointments, etc.
If you're an MGE client, you probably know the importance of patient outreach and consistent efforts to reactivate patients. This is how many of our clients are able to double their production independent of new patients. They become more effective at activating their existing patient base and getting cases accepted.
Now, typically, 67% of your practice's expected production should come from your existing patient base—not new patients. So, your active patient count and recall program are the backbone of your practice. And if you're not good at getting patients back in after they've fallen off the schedule, that active patient count will – depending on how many new patients you get – inevitably dwindle, stay the same, or see suboptimal growth.
(Related: Patient Reactivation: How to Get Overdue Patients Back on the Hygiene Schedule)
And it's with that in mind, that I have a few tips to help your front office become more effective at reaching patients and, most importantly getting them back into the practice.  And with that, here goes:
1. On average, it takes between 6 and 9 calls to reach someone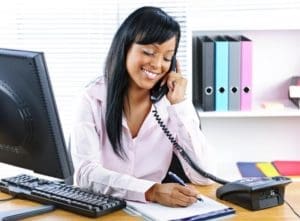 The majority of people making calls will call a customer (or patient, in a dental practice) 1.2 times before giving up. It's usually less than two calls that they are willing to make if someone doesn't respond.
Now, here's an interesting statistic from InsideSales.com, they found that: the average attempts needed to get an answer is between 6-9. Someone that makes 6+ call attempts will reach the person 90% of the time on average. 
Obviously, you're not making these calls one after the other.  There's time in between, but this gives you an idea of how much you should be increasing your efforts over the phones.
It's easy to assume that if someone doesn't answer or reply to your first message, it's because they're not interested or don't want to hear from you. That's NOT true. It usually not personal—it just means that they're busy.  Think about it, how many times have you not called someone back right away? It happens to the best of us!
I've done these calls many times myself, and usually, the response from the patient is, "Oh I'm so sorry I haven't gotten back to you earlier, I've just been busy…" Usually, they are apologetic for ignoring you, not upset about your calls.
In the rare instance that someone was annoyed by the calls, it's usually easy to resolve with a quick, "I'm sorry I've called you so much, but you never got back to me and we're way late for your cleaning. I want to check up on you and get you scheduled for your next visit."
I actually just spoke with a client of ours that had presented an implant case to a patient and he didn't accept it and missed his next appointment. She thought he was "gone" from the practice, but their receptionist kept reaching out to him (it took several phone calls over the course of a few months) and he finally called in and said, "Yes, I want to do those implants" and came in and paid for it. He was finally ready, but if she hadn't been reaching out to him, he never would've called in and got the treatment he needed.
This is a pretty normal story when you're doing proper outreach and patient reactivation. I've seen tons of examples of patients that hadn't been seen for 5 years popping back up and coming in for treatment.
Now, over what period of time should you do these 6-9 call attempts? That brings me to my next point…
2. Reach out to the patient several times within a period of a few days, while still being respectful.
My own personal viewpoint is that if it's going to take me 8 calls on average to reach someone, I want to do that in as short of a time period as possible while still being respectful.
Obviously, you don't want to call all 8 times within 30 minutes. This comes off as spammy and most likely the person you're trying to reach will ignore or block you – the exact opposite of what you want to happen!
(Related: Ask a Consultant: Strategies for Reactivating Overdue, Inactive Patients)
So, what I would do is make four "contacts" in one day. These contacts include emails and texts.
So I would do it like this:
Phone call in the morning (or just before lunch)
Send an email
Send a text message (if you have permission to use their mobile number)
Another phone call toward the end of the day
Then I'd give them some time to respond, and try again with A-D a few days or a week later.
I know I said it takes usually 6-9 phone calls to reach someone, and you haven't hit that number yet. That's okay, because you'll be going through this list of patients again at a later date (see point #5 for more on this).
3. Be friendly and have a personal touch
The trick with being able to contact someone multiple times in a short period of time without coming off as "pushy" is to be friendly and warm, and have a personal touch.
When staff are having to make several phone calls each day to multiple people on a list, they tend to get pretty robotic and it comes across as unfriendly. Eventually, it becomes pretty clear that they are just repeating the same script.
The communication should feel genuine and friendly.
When you leave a message, it should relate to their situation and be friendly.
For example, if they're only overdue by a month, you could say something like, "Hi ________, this is Ashley from ABC Dental. I'm calling you because I noticed you're overdue for your hygiene appointment by a month. I know things can get busy, but let's get you in for your appointment this week so we can cross if off your list 🙂 You can call me at 555-5555 to set up a time and day that works best for you. Talk to you soon!"
(Related: 11 Key Performance Indicators for a Dental Practice)
Another example, if it's been a year, let them know you're concerned and want to make sure they're okay. Something like this would work well, "Hi ________, this is Ashley from ABC dental. The doctor wanted me to give you a call because we haven't heard from you in a year. We're concerned and just want to make sure everything is okay and that you're getting taken care of and are healthy. Please call us back at 555-5555."
Don't just read that as a script. Look at each patient on the list and decide what you would say to them.
4. Call patients during the times of day you're most likely to reach them (typically around lunchtime or the end of the day).
I've found that making phone calls at the beginning and end of the day seem to be ideal.
If you call right before lunch and right at the end of the day, you usually have a much higher chance of reaching people.
5. Keep going through your list of patients again and again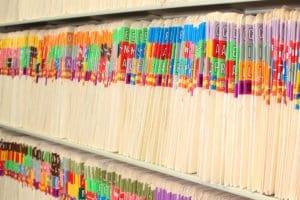 You never stop reaching out to overdue/inactive patients. It's not something you do just once, or once a year.
Once you've gotten all the way through your list of patients to call, generate an updated list and start back at the beginning. Odds are, there will always be overdue/inactive patients, so you always keep calling them and getting them back in.
The staff you've assigned this duty should have some time each day or a couple times each week to continue going through these, and it should always be a part of their schedule.
And if you have a large enough number of charts, you may have a full-time employee purely dedicated to this. We've had clients do this with tremendous success.
6. Keep in mind why you're doing this
Making dozens of phone calls in a day can get pretty tedious. Very few people wake up in the morning thinking, "Yay! I can't wait to dial a gazillion phone numbers today!"
So, keep the purpose in mind – to help patients maintain their health, get the treatment they need, and ultimately help them.
It's not to make a quick buck. It's to help patients improve and maintain their oral health.
(Related: 3 Techniques to Improve Employee Phone Skills)
Be sure to share any "wins" with all the staff. Something simple can go a long way like, "Patient Smith finally came in and got the treatment she needed and she's SO happy! She nearly cried when I held up the mirror afterward. Great job by Sally (receptionist) for reaching him and getting him back in." This gets the whole team involved.
Use these stories as inspiration to continue reaching out to your patients. It is totally worth it when you're the reason why a patient comes back in and becomes healthy again.
7. Use statistics to track your patient outreach
On the MGE Power Program, you learn how to manage by statistics. Try to manage a practice without statistics (or "metrics") is like trying to drive your car without a speedometer or gas gauge. They show you how you're doing and let you know you need to take action before a crash.
Once your start tracking the number of phone calls your staff make—the emails, text message, recall cards, etc—you start to see that total practice production goes up at down depending on the amount of outreach you're doing.
So, keep track of this outreach, and set goals for your staff on the number of phone calls or messages they send out every day. As that number increases, you'll see your production increase.
To learn how to manage by statistics properly (and a whole lot more), look into the MGE Power Program. It's enabled 1,200 dentists to generate an additional $9.9 Billion in additional revenue—and it can help you create practice growth, too.
I hope these tips help! If you have any questions, you can contact us at (800) 640-1140 or request a free consultation here.