Last updated on November 1st, 2017 at 11:44 am
By Margarita Abramova, MGE Marketing Department
Before we get into the non-traditional dental marketing, the bulk of dental marketing fits within a relatively limited scope:
1.      The internet (website, pay-per-click, social media, email marketing, etc.)
2.      Direct mail (postcards, newsletters, and so on)
3.      Internal marketing
The liability associated with this is easy to see: the more people take the same road – the more clogged (full of traffic) that road becomes. When a prospective patient receives a postcard from you and three other dentists, standing out so they pick you becomes all the more important. How you go about doing this isn't the subject of this post – we cover this and much more on the MGE New Patient Workshop.
Instead, this post is about the "road less traveled," and by that I mean non-traditional dental marketing. Specifically: Community PR (Public Relations) Events.  How far you go with this is really up to you. You could keep it as simple as health fairs or go all out with a booth at just about any event in your community! At any rate, it's marketing that your colleagues for the most part aren't doing which can provide that extra edge in your new patient acquisition strategy.
Types of Community Events
The number and types of health fairs will vary geographically. Do a simple internet search for health fairs in your area and then contact the organizers for more details; such as how much it will cost to participate and set up a booth. Your PR director and even a few of your staff can get on board to help you with this.
Some health fairs are large enough to fill an entire convention center, others are much smaller. Often, they are targeted to a specific audience, such as women, children, people interested in fitness, senior citizens, etc. Some research on the health fair is essential to determine how to tailor your presentation to the overall theme of the event (more on that later).
You can even set up your own health fairs!
Ms. Elizabeth Levesque, Office Manager for an MGE client in Massachusetts explains:
"We organized our own mini-health fair. We partnered with several local healthcare providers (a chiropractor, physical therapist, orthopedic doctor and so on) to set up occasional health fairs in big companies, where employees come by on their breaks to ask questions and get more information."
They're really no limit when it comes to community events. Some dental practices have been known to set up booths at music festivals, "family fun day" events, farmer's markets and even parades.
Tips on How to Set Up Your Booth
As mentioned above, tailor your booth to the event.  It should be engaging, with good signage, banners, possibly videos and so on.
You should have plenty of promotional materials about your practice, the types of dentistry you offer, new patient specials and contact information. You can also have little giveaways (pens/toothbrushes with your name, logo and phone number, sugarless candy, whatever), and brochures and newsletters for patient education.
Ms. Michelle Vernuccio, Public Relations Director for an MGE dental client in New Jersey got creative with this:
"We use dental simulation software at health fairs as a tool to schedule patients. The software creates a before and after picture that shows how the potential patient would look once a recommended clinical procedure is done. The 'after picture' shows the simulated results on teeth whitening, implants and more and works well for getting people into the practice."
You can also take it a step further. For instance, one practice created a prize wheel that someone can spin in order to win a special offer, such as a discount rate on teeth whitening, coupons gotten by the practice from other local businesses, etc. Along that same line, you could also hold a raffle for a prize or special offer from your practice.
Converting these Events Into New Patients
Ultimately, the purpose of these events is to get more new patients! How should you go about doing this?
MGE Power Client Consultant Chris Menkhaus explains: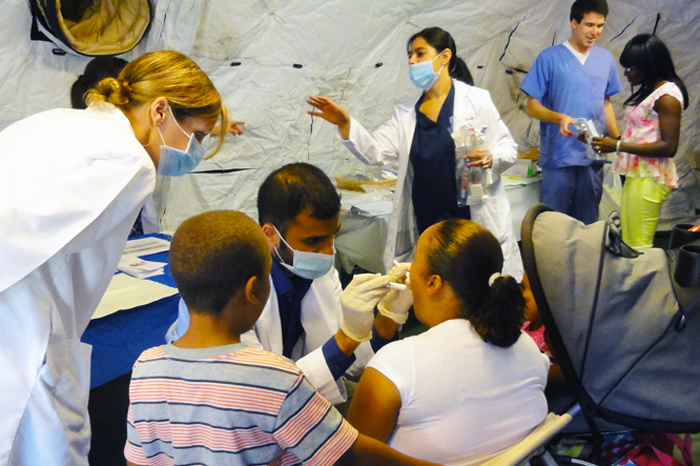 "Regardless of the event (health fair, etc.), once the booth is completely set up, the action really begins. The PR director and/or staff can't sit back and be wallflowers; they should be super-friendly and outgoing. That is, stop people passing by and talk to them about topics related to your practice and your special offers. 
Go with the goal of scheduling people, rather than just meeting them. Come prepared with set slot times or print out a schedule with blocked times for new patients.
Ask them: 'When was the last time you saw a dentist?' Don't ask: 'Do you have a dentist?' because they can say yes they have a dentist but that might have been 5 or 10 years ago. 
The standard appointment rules you would use in your office apply. In other words, instead of asking them if they want to make an appointment, tell them when they can come in for an appointment.
Bottom line: make friends and schedule appointments at the event."
So, there you have it. Community events can be a viable marketing tool for any dentist – from the conservative to pioneer or adventurous types. I hope you found this information useful.
And remember, while these types of PR and Marketing actions can be extraordinarily successful; use them to AUGMENT whatever marketing you're already doing. And most importantly, optimize your practice for new patients to ensure the best return on any marketing investment. My recommendation: do the MGE New Patient Workshop and turn your office into a NEW PATIENT MACHINE! Call 727-530-4277 or 800-640-1140 now  for more information!