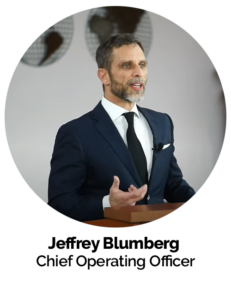 (Note: For this week's post, we're sharing excerpts from a recent episode (Episode 2) of MGE's podcast, Dental Business RX  from Jeff Blumberg, the COO MGE.  To listen to this or other episodes, visit our site, or look us up and subscribe on Apple or Google Podcasts or Spotify).
---
Never in my career, which has been about 30 years in the industry, have I seen more issues with finding a hygienist, assistant, administrative staff, you name it. And that's what we're going to be talking about in this week's episode of Dental Business Rx. Specifically, I want to go over some stats regarding this issue. And then I want to take a look at what could you be doing, right now, to take control of this in your office to make sure that you don't go understaffed.
Let's start with a look at the stats. This past May, I did a presentation at our Owners Conference, an annual event that we have for clients who graduated the Power Program. We took a look at the labor and employment stats back then because this has been an issue pretty much since the pandemic began. And I want to give you a little bit of a comparison because now I'm doing this podcast in August of 2021, and I want to just show you from a point of comparison—is this situation with trouble finding staff actually getting better? Or is it getting worse? Let's have a look.
THE STATISTICAL REALITY
First off, there was a survey done by the National Federation of Independent Business. They look at things like business optimism among small businesses as well as how hard it is to fill positions. Well, let's first look at the optimism factor. How optimistic are small business owners? Well, back in May of 2021, the optimism index was at 99.8% – pretty high. Optimism had dropped during the pandemic and had gone up by May.
This past month, the end of July (because this is an August podcast), it was at 99.7%. So, a little down but not much.
(Source: https://www.nfib.com/surveys/small-business-economic-trends/)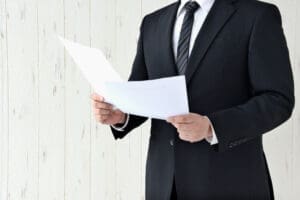 Then we get to job openings. How many job openings were there? Well, back in May it was the highest ever with over 8 million job openings in the United States. At that time, this was a big deal. Well, this past month, it was at 10.1 million job openings—up by 2.1 million job openings. And then to top that off, you've probably seen a headline that was going around: recently, there were 10.1 million job openings, and only 8.7 million workers looking for work. (Source: https://www.bls.gov/charts/job-openings-and-labor-turnover/opening-hire-seps-level.htm)
We have a situation where there are more job openings than there are people looking for work.
So how does this translate to small business? Well, in May, according to the NFIB hard-to-fill index, 44% of small business owners reported that they had at least one position that they could not fill. In July, that number went up to 49%. So that number went from 44% in May to 49%, almost half of the small businesses in the United States have positions that they cannot fill right now. (Editor's note: as of September, this number is over 50%) (Source: https://www.nfib.com/foundations/research-center/monthly-reports/jobs-report/)
And this is on top of all the anecdotal evidence we get from our clients—and keep in mind MGE clients are sharp; they know what they are doing. They know how to hire, onboard staff, etc. And anecdotally, what we're hearing is they can't find administrative staff, or you know, they'll set people up for interviews, and people are blowing off interviews. They're having trouble finding hygienists or having trouble finding an assistant, etc.
So, this brings us back to what's going on. Why are we running into this? And you or I might have those immediate knee-jerk answers. But I think that there are a number of factors that contribute to this. Let's start with the one that most people don't talk about. Since the beginning of the pandemic, you have a lot of people who have changed their life plans. You've had more people move and migrate within the United States the past 16 months than in any other time in years past.
Some are looking to work from home (or continue to work from home), or maybe they moved. There was a survey done recently of US Workers under 40 by the Washington Post Shar-School, (Source: https://www.washingtonpost.com/business/2021/08/16/us-workers-want-career-change/) which found that nearly one in three of these US workers under 40 have thought about changing their occupation or field of work. So, you have a lot of people who have looked at: What do I want to do? And maybe this has changed a little bit the past year and a half. So, that's one factor.
Then, of course, we have the factor that most people talk about, which is the additional supplementary unemployment that's been going on pretty much since April of 2020. The federal unemployment was originally at $300, but due to the pandemic, there was an additional $300 given to those who were unemployed. This can create a bit of a problem because when you look at it, if you have an employee who used to earn $15 an hour or $600 a week, for 40 hours a week, they may receive that much between state and federal unemployment. So, you have a situation where someone could be looking at earning as much to stay home, as they earn for coming to work. And, I'm not saying that everybody who does that is bad, I'm not going to go there. It's a complex problem. But it definitely is a factor.  I think considering that it's not a factor would be foolish.
So essentially, you have fewer employees on the market and from employers, you have more demand for employees. So, it's like anything, if you have more demand than there is supply, what happens is the price of that thing goes up; if all of a sudden there's less coffee available, and you got more people that want coffee, the price of coffee is going to go up.  Supply-demand is a basic law of economics.
Looking further, you have a situation where people looking for work have a large degree of control and can more or less call their own shots.
Making things even more complex is that a lot of bigger businesses have started to up the ante in their quest to hire.  You're not just bidding against small businesses. You're also bidding against bigger businesses. Earlier this year, Chipotle raised their minimum wage to $15. (Source:https://www.cnbc.com/2021/06/08/chipotle-hikes-prices-to-cover-the-cost-of-raising-wages.htm)
You have companies like Royal Farms (Source: https://www.globenewswire.com/news-release/2021/04/03/2204051/0/en/Royal-Farms-Aims-to-Hire-4-500-New-Employees-Companywide.html) and McDonald's (Source: https://www.yahoo.com/now/fast-food-franchises-getting-desperate-102022755.html) offering $500 signing bonuses. There was a McDonald's here in the Tampa Bay area that made national news because they were offering 50 bucks to show up for an interview. You'll find a bunch of stories like this online. You'll see corporations raising wages as well. There was a list of 20 that I just looked at before I started today's podcast—different banks, Target and all the big box stores, and various other large employers across the United States are raising wages.
So you've got that going on… Target I think at this point if I read correctly, will pay for an employee's college education (depending on the college they attend). (Source: https://www.forbes.com/sites/michaeltnietzel/2021/08/05/target-announces-it-will-pay-for-its-employees-college-education/)
So this brings us back to the fact that you're not only competing against the dentist down the street or the optometrist across town or the medical doctor in your building, you're competing with all the big box stores and other people looking for employees.
So, what can you do? Because you can't absorb the same amount of hits that a Walmart or a Target or a big bank can. How you handle this is the big question.
POTENTIAL SOLUTIONS
And with this, let's get into some potential solutions, as there are a few. And I want to do this by position, I'll start with administrative positions, then look at dental assistants and then hygienists. Then I'll touch on a couple of things to sum up. So, let's dive in.
ADMINISTRATIVE (FRONT DESK) POSITIONS
With regards to administrative positions, I don't know where this is all going to go. But here's one thing that I do know: if I'm going to pay more for something, I'm going to expect more
And one other factor influencing all of this is inflation. The last time I looked, the CPI, the Consumer Price Index, was up by 5.1%, (Note: it was 5.4% in September 2021). (Source: https://www.bls.gov/news.release/pdf/cpi.pdf)
I'm not going to get into what all that means, but basically, your dollar has less purchasing power now than it did a year ago. And remember it's not just your dollar, it's also your employee's dollar. You've probably noticed it with groceries and different things that you're buying—gas, food, etc. Well, your employees are running into the same thing. And they're going to need more to survive.
I know I'm jumping all over the place here. But one thing I should mention is, if you haven't raised your fees in a while, you probably need to look at raising your fees. You might want to make a 5-10% fee increase. I would advise that you do that because you don't want to price yourself out of being able to keep your staff or keep good staff because they're getting priced out of various types of goods and services that they need to survive. I just wanted to throw that out there before I forget.
In any event, salary requirements and what people are asking for may push what you're offering into a whole new strata of potential personnel. Let me explain what I mean by that. Let's look at an entry-level position, for example, a new receptionist. Well, most of the big corporations are paying 15 bucks or more—some could be $16. Some are offering $20/hr for an entry-level position. If I'm hiring somebody with no dental experience, I don't necessarily want to offer this person $16-$17 an hour to compete, because I'm going to have to go through training them, and so on. However, someone who is already making $20 to $23 an hour—and look, wages are going to vary by the area you're located in, so keep that in mind. But the person who is used to making more may be an awesome Schedule Coordinator, maybe they don't have dental experience, but they do have healthcare experience. Or you may find a killer insurance coordinator, someone who really knows their stuff, and they're used to making $23, 24, 25 an hour. If this person is good, chances are, they're probably going to be worth as much to me as two entry-level people.
So, keep in mind that the number of people you have doesn't necessarily equate to the amount of productivity. You might find that one extraordinarily competent person can out-produce two people. So, if I need to hire two people and I'm being pushed to pay positions that I used to pay $13 an hour, $16, $17+ based on what market forces are telling me, I might instead look and see if I could hire one great personnel for $22-$24 an hour. And they can do what both of those people would have done.
It's an interesting approach to this problem. But you might find you can get somebody who's a lot more seasoned and productive.  And it's unfortunate that this doesn't help the entry-level folks. And you're still going to find entry-level folks who want to get into dentistry. But my point being is I would look for somebody who's maybe a bit more seasoned, a bit more experienced, maybe has a bit more of a track record that, maybe I'm going to be paying a bit more, but that can be a little bit more effective in my practice.
From an administrative perspective, one thing I'm going to want to look at too is an efficiency statistic. This is a statistic we teach our clients to keep track of. Basically, this statistic is your collections divided by the number of staff you have. In other words, if you collect $100,000 a month, and you have five staff, that's $20,000 a staff member. Well, you want that number to at least stay the same if not go up over time as you train people.
So, if I hire staff member #6, and I was collecting $100,000 with five staff, I would eventually expect to see those collections around $120,000. So this is a number you're going to want to keep an eye on. Obviously, if I hired staff member #6 and my collections go down to $80,000, that's a whole other problem at that point. But that's just something to think with because those wages, you know, the folks who were making $20 to $25-26 aren't going to be as drastically affected, other than inflation, as the entry-level wages were because of this whole bonanza for entry-level positions. Something to think with.
DENTAL ASSISTANT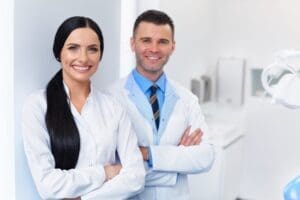 And what about dental assistants? Here's what I would do with dental assistants. This is something we've been advising our clients to do: incentivize career growth.
We'll take a little bit of a page out of what—actually we had this idea before Target did, I want to throw that out there—let's say you have a newer dental assistant, maybe you hired him as a sterilization assistant, you know, somebody who may be a floater who's breaking down rooms and cleaning them. Well, give this person a career path maybe to become an EFDA. Maybe if they hit certain benchmarks as far as longevity and productivity. You can pay for certain levels of certification, you can have them go get certified to take x rays, depending on your state. Obviously, this varies…eventually, if someone's been with you for a while, you can help finance their education to become an EFDA, because what it does for them is it makes them upwardly mobile.
Now, what's the problem with that? Let's say you help fund the education from one of your assistants to become an EFDA. And then they go, "Hey, thanks for helping me and this office down the road just offered me $5 more an hour than you're offering!" Well, that's a problem. Right? So what do you do about that? Well, here's where I would get an employment attorney. And you should have an employment attorney that you can rely on that you can talk to, and go back and forth with and you might think, oh, it's fees or whatever, but you know, that couple thousand dollars a year you might spend on an employment attorney will save you a lot in the long run, especially if you mess things up. But what I would do in that case is I talk to an employment attorney to help craft an agreement that attaches any monies that you pay for education to an agreement to work for a certain period of time, and then obviously have the attorney draft it. So in other words, let's play this out. So you have this dental assistant, they want to get trained to become an EFDA, you're going to help finance their education, they agree to work with you for two to three years. And if they leave sooner than that, they owe you a certain portion of that tuition you paid back.
I would definitely be pushing upward mobility with your assistants. You know, it's a great career. So help support them in it.
HYGIENISTS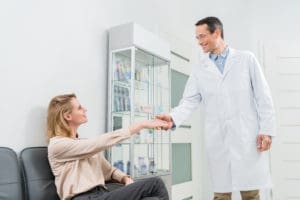 What about hygienists? Okay, so, again, with hygienists…this is actually…I've seen hygienists, I've heard more problems finding hygienists than any other position. It's funny because—I'll give you an example. We have a client in southern Virginia. And this doctor had a horrible time finding associate doctors. Yeah, he's practicing in kind of a remote area. So, there weren't a lot of associates available. Well, then the pandemic hits. So, you had a lot of people bailing on major metropolitan areas. So now – no problem finding associates. We had a client in upstate New York who couldn't find associates, and we said advertise in the city, I'm sure lots of people want to get out of that one-bedroom apartment or efficiency they were locked down in for two months. And it was correct. They found people that wanted to move to a place where they could have a backyard.
But hygiene is still a bit of a conundrum, there have definitely been issues with finding hygienists. So what would I do here? First thing I would do is I would again, incentivize career growth, just like with dental assistants, you can have some type of a career plan that maybe you help with. And I wouldn't start doing that from the beginning, I would want them to hit certain benchmarks and sort of prove themselves before I'd invest in them. And again, I'd want some kind of an agreement in place.
And you would also want to set it up that if they get certified in something or add a new skill, that they can potentially earn more. That's one thing you can do with a hygienist. But let's say you're practicing in, I don't know, Tampa Bay area and you just can't find a hygienist. Well, any hygienist in the state of Florida is able to practice anywhere in Florida. So I would expand out from where I'm looking. I would get a list of hygienists all over the state, I might send a letter, find if there's some type of hygiene journal of any kind or hygiene publication that people look at or if I could pay these publications or associations to email their lists. I'd try to get that in front of people that I'm looking for. You might find some hygienist who's practicing down in Miami that wants to move to the Tampa Bay area, as an example, and you can take that and apply it to wherever it is that you are practicing. You might be in, you know, Fresno, California, you can advertise in LA, so maybe somebody wants to move you never know.
So there's that – you could expand out where you're looking and incentivize career growth.  But let's say, you've done all of that and you just cannot find a hygienist; you're just you're coming up goose eggs here. What do you do? Well, here's a little bit of a story. About, oh, gosh, this was a long time ago, back in the early 90s, again, during the first Clinton administration, in the Chicagoland area, there were five doctors; five dentists for every one hygienist. I'll say that again. So for every five dentists that there were in the Chicagoland area, there was one hygienist. So if your hygienist was off for that day, or had to take a week off, and you were calling a temp, nine times out of 10 you would get a dentist as your temp hygienist.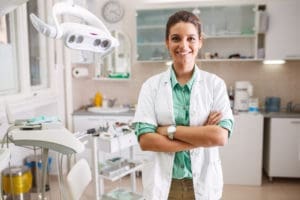 So, if I couldn't find a hygienist no matter what I did, I'd probably bring in an associate doctor. They seem to be a lot more available right now than hygienists are. And it solves a couple of problems. In many states, a hygienist can't work unless the doctor is there. So it creates a problem if you (the doctor) are out of the office).  You don't have this problem with an associate doctor, as….they're a doctor!
And I know that for some associates, doing hygiene is not the ideal long-term solution, and I understand, but let me kind of play this forward for you. You want to maintain a decent hygienist to doctor ratio. And for example, normally you want to maintain a 1:1 or 1:1.5 ratio. In other words, one doctor for every 1 to 1.5 hygienists. Otherwise, what starts to happen especially when you have two or more hygienists to one doc, you max out. The doctor is spending all their time doing hygiene exams and running around trying to get their procedures done as well, that the doc does not have time to properly present treatment. When this goes way out of whack, it can actually be counterproductive. You know, your gloving and degloving in some cases several times an hour. So, you want to maintain that 1:1.5 max.
So, let's say you have a regular old solo dental practice, and you work four days a week, you've got a hygienist who works four days a week. All right? Well, you need to add a couple of days of hygiene, let's say you need two days of hygiene immediately, well…bring in an associate doctor, with the idea that as they start to get going, they might pick up some of the smaller procedures or some of the other dentistry that you don't have time to do. What does it look like? Maybe a couple of months later, it might be two days of hygiene and two days of dentistry for this associate, you still got that one-to-one ratio. See, you've got the four-day hygienist, four-day main doctor owner, you, and then you have an associate going two days on hygiene and two days as an associate, meanwhile, you keep looking for a hygienist. And eventually, you might end up with two hygienists and two docs or a part-time associate and full-time hygienist, it's not necessarily a terrible idea. I've actually seen it work out several times.
The solution is not to be doing the hygiene yourself. That is absolutely not the solution. And it's also not a solution to let your hygiene schedule and volume drop off. So, you got to do something, and that's what I would recommend.
OUTSOURCING
I'm gonna wrap this up with the last couple of points. There might be some limited outsourcing that you might want to try. And you've got to be careful with the outsourcing. I wouldn't want to outsource something that really affects my office function or productivity. I wouldn't outsource my reception or something along these lines. But I might outsource, for example, insurance collections or verification, there are companies that do that, and they can do it quickly. But if I'm going to outsource I'm going to track their productivity and their performance just as tightly as I would track an employee's. You know, if they're not performing, I'm going to replace them or bring it back in house.
TEAM TRAINING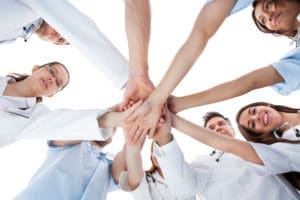 Lastly, you probably have a situation as you're going along through the past two years with some turnover, or you're bringing in new people, and you really have to take training seriously now more than ever. Once you've determined that somebody is really going to work out in your practice, if you want to keep them in your practice, you got to make sure that you allocate time for training.
You should also have group training where you're going through basic things like the flow of a new patient through your practice, the flow of a treatment and treatment presentations through your practice, and other things along those lines. You want to improve team cohesion and keep everybody on the same page, especially in a time where you've got this sort of transitory personnel situation that's going on. Anyway, those are my thoughts and recommendations. And I hope that helps.
And again, if you guys need any help, you can give us a call at 800-640-1140 or you can click here for a free practice analysis. Again, hope it helped guys and we'll see you at the next episode.