Last updated on April 3rd, 2021 at 09:51 am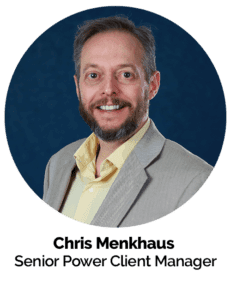 No matter the size of your dental practice, having clearly defined roles in the front office is essential.
Failing to separate job functions and having "everyone" share all the duties or simply not having enough people up front—is one of the biggest barriers to building a strong practice.
Typically, back office/clinical roles are well defined and understood. This allows for the back office team to focus on their specific job. You would think it'd be odd if the hygienist was also answering the phone every ten minutes or going off for an hour to submit insurance paperwork. Beyond being silly, it would also be disruptive to productivity.
(Related: Hiring a Front Desk Employee with No Prior Dental Experience)
And along these lines, you'll often see one or two people in the front office scrambling to do anything and everything. We don't think it's odd to see the person in charge of the schedule calling to handle insurances, or the Office Manager answering the phone—but it can be every bit as destructive to the practice's structure and productivity as if the hygienist or doctor were being called away for random tasks.
Oh, by the way, I wanted to mention we have
several FREE e-books

that touch on the following concepts such as building a productive schedule, improving case acceptance, creating a profitable hygiene department, and much more.

Simply visit this page to download them for free.
Doing Too Many Different Tasks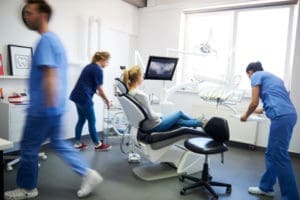 When an employee is doing five different functions—which are all important to the practice—they're not really responsible for any one of them.
When one person is answering the phone, checking patients in and out, scheduling patients, handling collections, etc…you'll wind up with things getting missed. Patients fall off the hygiene schedule, case acceptance suffers, you end up with holes in the schedule, and so on.
Same thing if you have a few people sharing duties and don't each have clearly defined roles. They'll miss things and make mistakes.
Saving Money Vs. Increasing Productivity
Obviously, we want to be a lean, efficient operation. But we don't want a "skeleton crew!" Many dentists think they're saving money by not hiring more employees—when in actuality they're missing out on so much more income by being understaffed.
(Related: 3 Easy Steps to Boost Productivity in Your Practice)
I've seen a mind-numbing number of dental practices with 4,000 charts but only 800 active patients. That's not good! And the reason is not that "It's just the way it is," or "We're located in a transient area…" The reason is poor organization and separation of duties in the front office.
If they just hired somebody to work full-time to focus on the schedule and reactivating patients, they could easily triple their active patient count and practice production. But instead, they go to an existing front desk employee whose plate is already full and say, "Work on filling up the recall schedule, too."
Think about it this way: if you could "clone" your best employee and have each clone work full-time on each function, how much more would you grow?
If you had a competent, well-trained employee focusing on filling up the schedule with productive procedures in the right spots, then the schedule would look the way you want it and you'd have more consistent production. If you had one person focusing on case and acceptance and financial duties, your collections would improve.
This is one of the big reasons our clients on the MGE Power Program see an average revenue increase of 232%–we give them systems to create real organization and build an efficient and productive team. This includes a layout of the practice structure and job functions, training methodology for each employee, and guidelines for controlling overhead and being highly profitable while doing this.
What's the Ideal Staff Complement for Your Practice?
If you have a smaller office (one doctor, one assistant, and one hygienist, and maybe 500-800 active patients), you may be fine with just a Receptionist/Scheduling Coordinator and an Office Manager up front (who also handles finance). But still, their job functions must be clearly defined so that each one knows exactly what they're responsible for and is able to focus on that.
And as you grow, with more active patients and back office employees, you'll need more positions filled up front.
(Related: 6 Tips for Hiring Great Front Office Staff)
So take a look at your office and all the things you know you want to improve. Maybe your active patient count is lower than it should be—meaning you've got a "leak" and you're losing patients. Maybe your schedule is inconsistent. Maybe you're sending patients up front after presenting their treatment plan, and then finding out later they didn't make financial arrangements or schedule.
It may be time to think about how you've assigned responsibilities in the front desk and whether or not you may need to hire more people.
If you'd like help figuring out the proper staff complement for your office and how it should be structured, request a free practice evaluation here or call us directly at (800) 640-1140. There's no charge for it and we'd be happy to help.